Amish Custom Furniture
For more than 30 years we have successfully brought quality Amish Custom Furniture to thousands of families across the country from the Heart of Illinois Amish Country.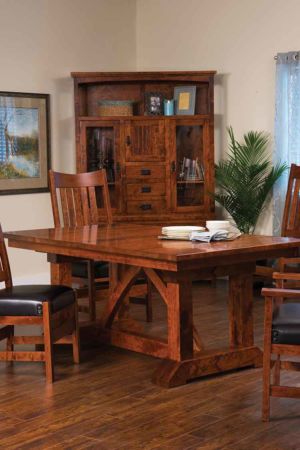 We work solely with small Amish shops. They will build our furniture for you one piece at a time. Most are small Amish builders, creating heirloom quality furniture with family members or a few neighbors. Often, it takes a few separate shops to bring together the components for a furniture item. Maybe one family turns legs, another makes frames or doors, and a third Amish family makes specialty components, assembles the unit and applies the finishes. It does take a village. Our part in all this is the communication, design and planning with you, the final customer.
More than thirty years of continuing,  successful, custom furniture retail speaks for our furniture's quality. It speaks to our personal customer service and business integrity. Over the years, we have dealt with many second and third generations customers. We are a brick and mortar, family owned shop located in the Heart of Illinois Amish Country. We service customers from coast to coast with quality, solid wood Amish crafted furniture in both standard style offerings with most importantly, the ability to completely customize any unit to meet your needs.
Our on-line offerings are but a small part of what we are able to do. If you find an item in our selections that meet your needs, we can start the process right here. If you find something close but not exact, we encourage you to contact us directly and let us know how we can help you with your design.  ( We would also be very happy also to have you visit us here in Arthur Illinois! )
We take pride in our Amish Furniture and the service we provide. You will not be disappointed.