Amish Bedroom Furniture – Solid wood beds, dressers, armoires and chests, blanket chests, side tables, nightstands and more.
If you are thinking about a new bedroom set or just one item, you will not find a wider selection of styles or choices anywhere on the net.
We offer the ability here to choose from thousands of ideas and styles. Plus we offer the ability to adapt any of these offerings or any else you may find to specific details that will make your bedroom pieces to your specific needs.
Our Amish craftsmen's work is second to none. You will be happy with the quality and workmanship! Solid hardwoods, heirloom quality hand finishing, and unrivaled attention to detail.
The links and groups to the right side will help you refine your search a bit.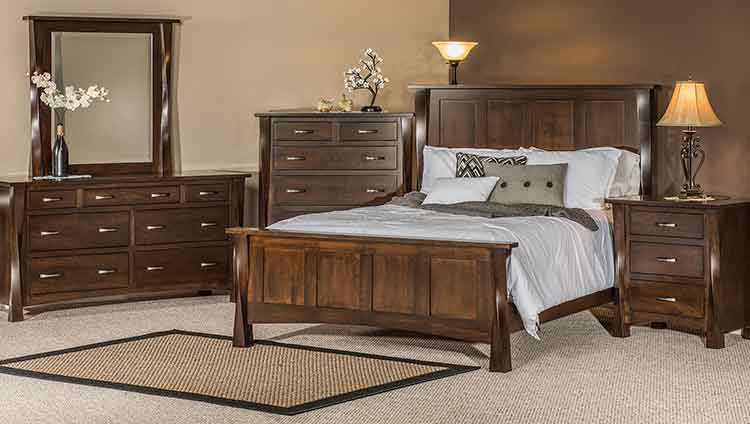 Look thru the Amish Bedroom furniture offerings by item group on the right for size, style and door/drawer layout remembering that we can combine a lot of these features in a bedroom suite that we build for you. You can have different trims and stylings, more or less drawers, and many different wood and stain choices depending on your need. Picture one of these sets in your bedroom. you will enjoy it for a very long time.
All of our Amish bedroom furniture items are Amish handcrafted in north America with solid hardwoods and fine furniture finishes. Absolutely no particleboard or MDF is use in any our our cabinetry.
We ship our furniture and cabinetry with special care, blanket wrapped, with inside delivery and setup, to any part of the continental US.
Any of the details in the bedroom items shown in the above link can be modified, often at no additional cost. For more information on  our custom bedroom work or background, visit our sister site www.WoodLoft.com