Amish Bedroom His & Hers Chests
Similar to our Amish made Armoires, these Amish Bedroom His & Hers Chests can provide you with maximum storage in any given space. These large, versatile pieces will work well in any room in your home. Our solid wood Amish bedroom His & Hers Chests will be a unique addition to your home. A His and Hers chest gives you more storage than a standard dresser with the addition of shelving for your sweaters and folding items and/or hanging space in your bedroom. They offer plenty of storage for table linens, dishware or office record keeping supplies if displayed in dining or office areas. Additionally both of you get designated, separate storage compartments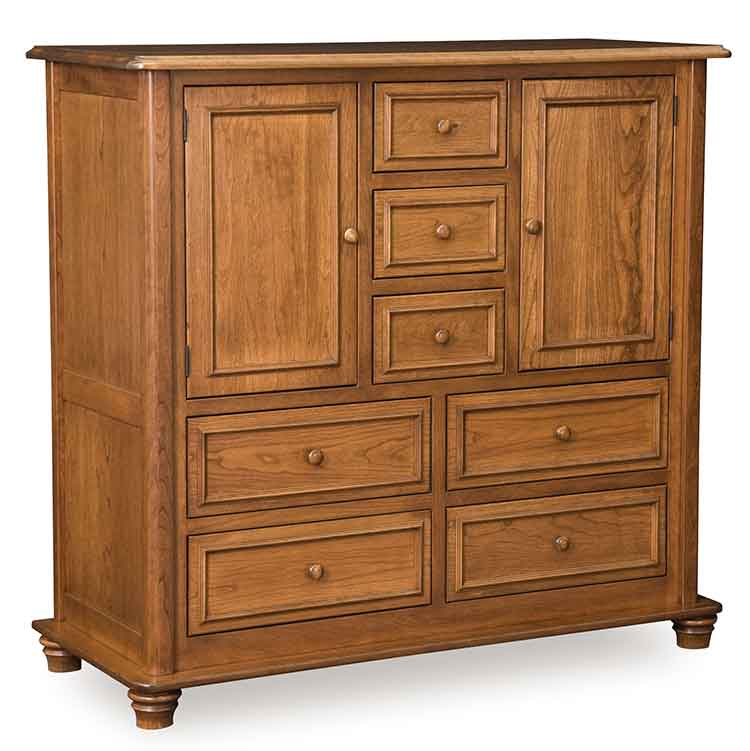 If your bedroom is limited on closet space, a His & Hers Chests could be just the ticket for you. Your chest can be as tall and wide as you like (or as is practical,) with plenty of drawer space in the lower portion and lots of storage above.
To browse images and details of our Amish Bedroom His & Hers Chests HERE
Look thru the offerings for size style and door/drawer layout. Remember that we can meld a lot of these features in a His & Hers Chests we build for you. You can have more or less exposed drawers, and behind the doors, you can vary more drawers storage, shelves, or hanging space, depending on your need.
Amish handcrafted in North America with solid hardwoods and fine furniture finishes. Absolutely no particleboard or MDF is use in any our our cabinetry.
We ship our furniture and cabinetry blanket wrapped, with inside delivery and setup, to any part of the continental US.
Our Amish His & Hers Chests can be ordered in practically any American hardwood, in a style or stain to match any decor. This His & Hers Chests shown above is  displayed in Maple wood It is shown in a style with flat paneled sides and beaded door and drawer trim.  We offer a very wide selection of hardware choices to complement your room.
Any of the details in the armoires shown in the above link can be modified, often at no additional cost. For information on custom armoires visit our sister site www.WoodLoft.com