Pistol Displays, Knife and Small Item Display
Enjoy more of your collection with  custom pistol displays, or knife and small item display cases
Custom pistol cabinets can be for easily viewed display and still secure your collection from children and from smash and grab break-ins. Display your pistol collection behind locked, highly break resistant laminated glass or break proof polycarbonate.
Security in Design
Another security measure is to mount and position your collection with individual locking trigger mounts. These can be solidly attached to our cabinetry or directly into the wall behind. They do not take away from the look of your display and also prevent direct access to the weapons trigger area. With the key or combination, you still have easy, fast access. Without keys or the combinations, removal is a very slow, one by one process of very little interest to thieves. We install these l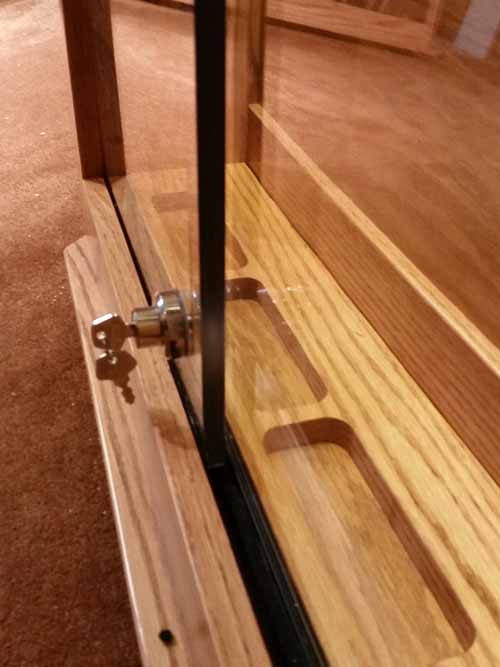 ocks in any position or layout you choose. They can be utilized inside an otherwise locked case, or to secure pistols that are otherwise in the open.
We incorporate our normal fine furniture, whole wood construction methods when we create a pistol display. Solid wood frames and case sides, plus we increase the back thickness to 3/8″ for a stronger case. To create an enclosed case with maximum visibility, we use locking, laminated, bypass glass for the doors. Occasionally, for extreme security we will use 1/2″ bullet proof polycarbonate here. This is literally unbreakable. We use LED touch strip lighting and incorporate the trim levels of your choice.
Appearance and Design
We can match virtually any style case goods to meet your needs. The custom woodwork does not add cost or time. Working up the plans to fit your dreams is the only lead time addition. But we are comfortable that you will find it worth the time. For truly unusual collectibles, small or irregularly shaped, we will work with you to build or source display mounts that fit the size and nature of your item.
No matter if you wish to display a single weapon with some accessories or a whole collection, we can help design a beautiful and secure display. Your display can be free standing or free hanging on a wall, or be incorporated into other cabinetry.
We have thousands of images of our past work and only offer a few here and on our sister site www.custom-guncabinet.com Send us an email or call us and we can talk over ideas for a display that live up to your collection and style.
Browse some of our images here also…