Dining and Kitchen Furniture. Tables, chairs, hutches and sideboards. Everything you might find in a kitchen or dining area.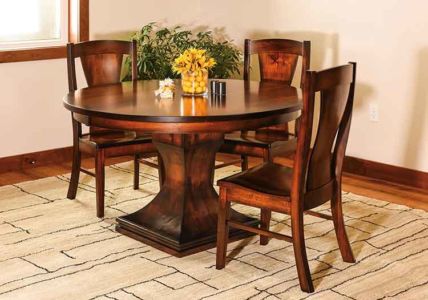 Our Amish made Dining and Kitchen Furniture are one of the most popular groups of items that we make. Solid wood construction, the best finishes available, and design to match the styles of today.
Select from traditional, contemporary, shaker/mission or other styling in a wide selection of shapes plus unlimited wood species and stain combinations.
Express your lifestyle in the room where you will surely spend time. Quality tables with comfortable seating will make your family and guests want to spend more time with you around the table.
Refine your choices for Dining and Kitchen Furniture from the links to the left …. dining table & dining chairs. In each link you will find literally hundreds of images of style to think about. On Tables, there are many traditional shapes… round, oval, rectangle, plus many specialized pieces, such as live edge shape which bring nature into your home. Regarding tables, if you can not find what you are thinking of, give us a call. We have created many, many totally custom table over the years. Always with the same high quality standards that will last your family multiple generations.
Our dining chair selection numbers into multiple hundreds, not counting upholstery, wood species and stain variations. And again, if you do not find a style that your specifically looking for, we have a few chir builder that do completely custom work, so give us a call.
Hutches and sideboards are also a part of your Dining and Kitchen Furniture. Links here will also show details of thousands of ones that we have quick access to thru our Amish builders. Same high quality, and solid hardwood construction that you will be proud of for years to come.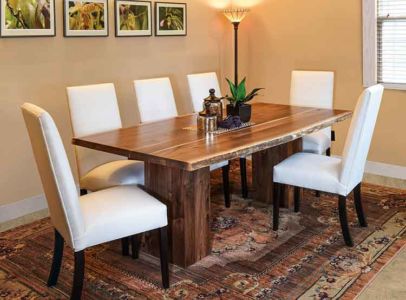 Lastly. if you are ever in or near the East Central Illinois area, stop by our store in downtown Arthur, Illinois. We have many tables and chairs on display in our store front showroom that you can test drive. Or at least put your hands on the quality of our work. We would love to see you. www.WoodLoft.com