Amish Office Bookcases, Credenza and Hutches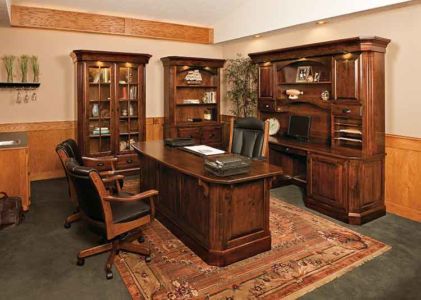 If you have a large library or need additional storage, adding a bookcase, or desk hutch top is the way to go. Our Amish crafted, solid wood furniture will provide plenty of storage, and look good at the same time.
Amish made bookcases can be stand alone bookcases, designed to sit on the floor and be or various or custom heights to fit your room and collection. In a style of your choice, of course. Or they can be crafted to sit atop a desk or credenza, hutch style. Either way can add significant storage and organization to your office space. Book cases can include concealed storage with built in drawers or doors, to keep messy things out of sight (if you are like we are…) And they can be chosen in many sizes and widths.
Credenzas add class to any office. They add work space and organization space with plenty of doors and drawers. We can build them as stand alone units or fit them to your exact space as a built-in.
Choose from any of our north American hardwoods, and have us finish them in any stain to match your decor. From country casual to office modern, we are here to help.